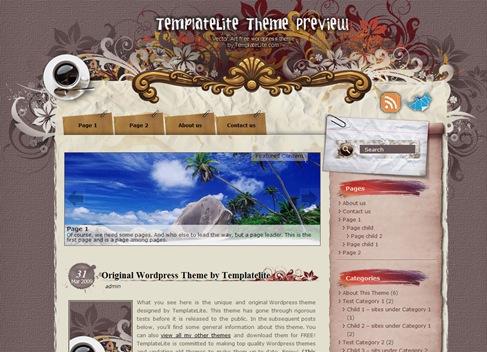 The Vector Art theme is built with professional vector design. The theme options include Twitter and feed integration, advanced automatic thumbnails, custom style and more. Drop-down menu and Ad-sense ready. Tested on WP 2.9+ using Firefox, IE7, IE8, Google Chrome, Safari and Opera.
Vector images store the lines, shapes and colours as mathematical formulae. Thus, the images give sharper and higher resolution output as compared to the raster images that are based on pixels.
The Vector Art theme, comprising heavy use of vector graphics, is sure to give a fabulous artistic look to your blogs/sites!
Main Features
– User-friendly Options page
– Drop-Down Menu
– Automatic Thumbnails
– Different design for sticky post feature
– Compatible with IE7, IE8, Firefox, Chrome, Safari, Opera
– W3C XHTML and CSS compliant
– SEO ready
– Gravatar enable
Theme Name: Free WordPress Theme – Vector Art
Copyright:http://www.templatelite.com/
Homepage: http://www.templatelite.com/
License: Free for personal or commercial use, licensed under creative commons license.
You might also like: