Free WordPress Theme – deStyle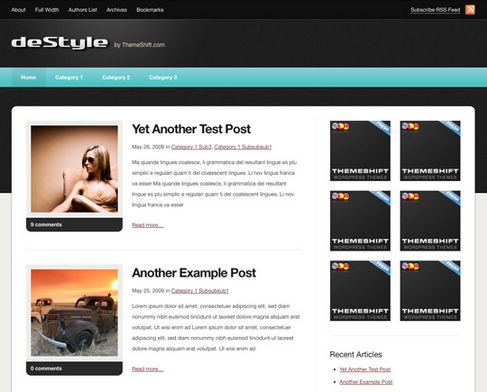 Theme Features
Multi-Level Dropdown Menu
deStyle can easily handle a lot of content. The Superfish multi-level dropdown menu makes lets the user nicely browse through categories and pages of all different levels. Even very long titles are taken care of.
Sidebar Ad Management
Through the theme options page you can easily manage your sidebar square banners (125×125px). Just provide the image URL and the link destination. You can also control the nofollow attribute of each link.
Custom Page Templates
The theme deStyle comes with some useful custom page templates that will be necessary on every blog magazine site. You can select between full-width (no sidebar, authors list, archive page and bookmarks page).
Threaded comments
deStyle nicely displays nested comments. Let your users discuss and reply to each other in up to 6 levels. Threaded comments are definately one of the top features of this theme. Trackbacks are displayed separately.
Theme Options Page
Through the theme options page you change the look and feel of your website at any time. As a default feature of ThemeShift themes the theme options let you fully control your theme without having to mess around with code.
Want more Theme Features?
All the ThemeShift themes come with some default theme features like a multi-level dropdown menu, threaded comments, custom page templates and much more.
Name: Free WordPress Theme – deStyle
Copyright: themeshift.com
Author: themeshift.com
Homepage: http://themeshift.com/
License: GPL license,Themes for unlimited private and commercial purposes
You might also like: