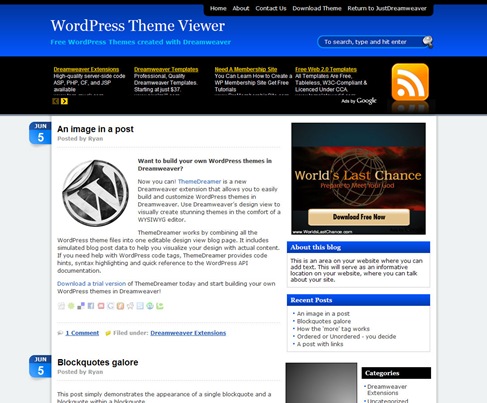 This is an AdSense-optimized theme that includes prestyled areas for easy insertion of AdSense ads. It's a 3-column widget-ready theme with 3 configurable sidebars.
This theme includes support for WP-pagenavi, Sociable, Breadcrumb-NavXT and Rob Marsh's Post Plugin Library.
Theme Name: Free WordPress Theme – Interior Design
Homepage: http://www.justdreamweaver.com/
License: Free for personal or commercial use, licensed under creative commons license.
You might also like:
Tags: Adsense, Blue, CSS, Free, Google, Html, Template, Theme, Wordpress, WordPress Theme, Xhtm, Xhtml