These concept gadgets you see before you today have extremely high chance of getting into production anywhere in the future. For example, Microsoft's Surface Computing Technology certainly tells us they are for real. Here are some really cool concept gadgets, just concepts for now, but hopefully they'll be implemented.
B-membrane Laptop/Desktop
Concept computer designed by Korean designer Won-Seok Lee. No bulky monitors, just a UFO shape system that displays screen like a projector.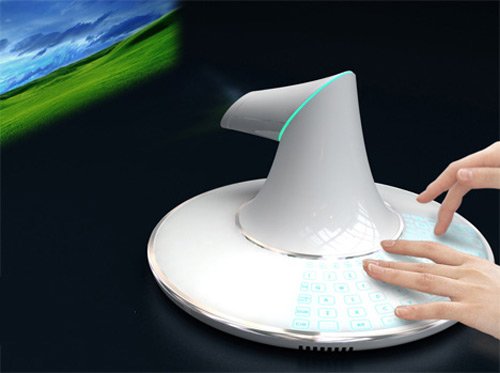 Nokia Aeon Full Screen Concept Phone
The most prominent design feature of aeon is a touchscreen that stretches over the full surface area of the phone.

Napkin PC
The Napkin PC is a multi-user, multi-interface, modular computer designed for creative professionals to collaborate and bring their greatest ideas to life.

Cellphone Code
This phone uses haptic technology to provide physical feedback for making a call. To turn it on…twist a section, to dial a number…twist a bunch of sections, to make an international call…break your wrist!

Virtual Goggles
Designed and conceived by Franz Steiner, he wondered what the personal assistant might look like in the future.

New dSLR?
Concept of a digital camera which can be used in one hand.

Future Internet Search
All you need to do is point the tablet at any object and you should get search results as good as Google's, just more interactivity.

Sunshine Pillow
We aren't sure if it's warm enough, but it's good to own one.

Capsule Radio Clock
Not rocket science, but definitely cool to get one.


Info-Live Watch
INFO Live is a data organizer for connected internet world. It is able to transfer data information to any hardware and person any moment in time of need.


Jive for the elderly
Jive is a range of 3 products that were designed to get elderly technophobes connected to their friends and family.

LifeMap
Touch screen digital photo storing and organization product.

Microsoft Arc Mouse
When you go advanced in all your computer equipments, the next best thing is to get a futuristic mouse.

Pebble Key Port
Designed with many slots so that user can easily group their keys into categories, such as car keys, home keys or office keys.

Pixel Perfect Hour Glass
Title says it all. A perfect gadget anyone wants to own, I suppose?

Calliper Style Radio
Like a precision calliper tool, 08 Radio by Mikael Silvanto lets you precisely find the station you want by sliding the entire radio unit up and down the scale.
You might also like: