Here is a vector of bird silhouettes, includes a eps and ai file for your design.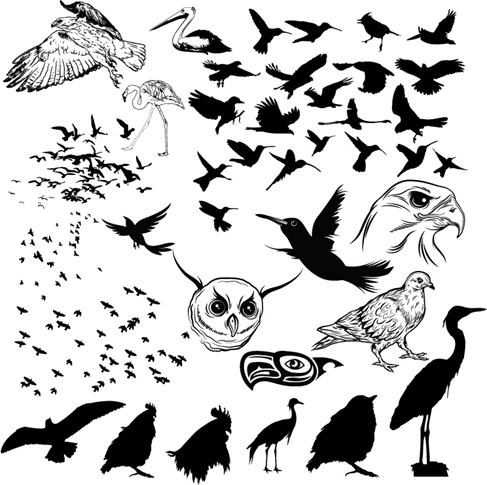 File Name: Vector Birds Silhouettes
File Type: EPS and AI
File Size: 2016 KB
This image is a vector illustration and can be scaled to any size without loss of resolution. This image will download as a .eps or ai file. You will need a vector editor to use this file (such as Adobe Illustrator).
You might also like:
Tags: Action, Adobe, Animals, Art, Beak, Bird, Birds, Bittern, Black, Blue, Canary, Cardinal, Chick, Claw, Clip, Clip-art, Clipart, Collection, Color, Contour, CorelDRAW, Crane, Cut, Cutout, Design, Dove, Doves, Drawing, Duck, Eagle, Egret, Element, Elements, EPS, Fauna, Feathered, Finch, Flamingo, Flight, Flock, Fly, Flying, Free, Freedom, Gliding, Goose, Group, Hawk, Hawks, Heron, Hummingbird, Hunt, Icon, Illustration, Illustrator, Image, Isolated, Landing, Large, Meadow, Mockingbird, Motion, Natural, Nature, Outdoors, Outline, Owl, Painting, Parrot, Path, Peace, Penguin, Pets, Photoshop, Pigeon, Pigeons, Rear, Seagull, Set, Shape, Silhouette, Sparrow, Species, Stamp, Stork, Style, Symbols, Tail, Talon, Tree, Vector, Vector Graphic, View, White, Wildlife, Wings